A super Winter dawn, seen from the top of Upper Almora Street, greeted the intrepid Swimming idiots this morning……Dave U., Chris …busily snapping away using his SONY RX100 Mark I camera, Rob J., Judy, RBJ and myself. Bevan of course riding across, through , over , around all State borders on his motorbike.
It's been so dark the last few morns' that the orange & purple glow of a beckoning sunrise was a welcome sight for all. Water felt remarkably good and a tad warmer than the last days and steady at a very official "Ruth 16 degrees"……which of course is different to a "Dave Sanney 16 degrees"….where are you Dave ? The cold beach shower afterwards however is not so welcoming at a frosty 11-12 degrees.
The good news too…was that most Balmoral residents could see this sunrise…..as Chris new bus was not parked by the foreshore….so all had a clear view.
Always present was Rod, Ruth, Christine and I'm sure Sutho' somewhere …no doubt swimming back from Chinaman's Beach with a miners light on his cap.
Cheers all….good to be back in the water…..
Stephen (the other Richard)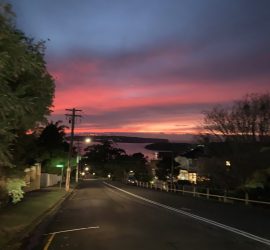 ---